catering
We love feeding people and coming up with thoughtful food solutions, especially if there is a creative or playful element. For us, food is a beautiful way of bringing people together and celebrating human connection so we like to adopt a holistic approach to to catering. The more you share with us about your gathering, the better we will be able to apply our knowledge, skill and experience.
In-house feasts
Our very favourite is hosting shared meals in our lovely hidden-away dining room. This can accomodate roughly 70 visitors (more if it's just drinks and snacks). Our approach to shared meals is quite playful. We favour a more interactive, family style service. It suits the place and the food we serve. Because we are tucked inside a college, we are usually restricted to Monday-Friday evenings. Our dinner menus vary from cosy supper (at ~€25 per person) to tasting menu (at ~€45 per person). There is no venue rental cost but if we need to stay open later than 8.30 pm we must pay a fee of €240 to the college for extended security. We are licenced and have wonderful wine suppliers who are delighted to work with us on menu pairing.
Sample cosy supper menu
Sample tasting menu
Our dining room

This is a special space full of history with a beautiful atmosphere, ever understanding of the many and varied reqeusts we make of it. It has hosted seminars, live music performances, dance offs, funerals, film screenings, dj sets. Sound works especially well, perhaps because of the raw bricks/low ceiling.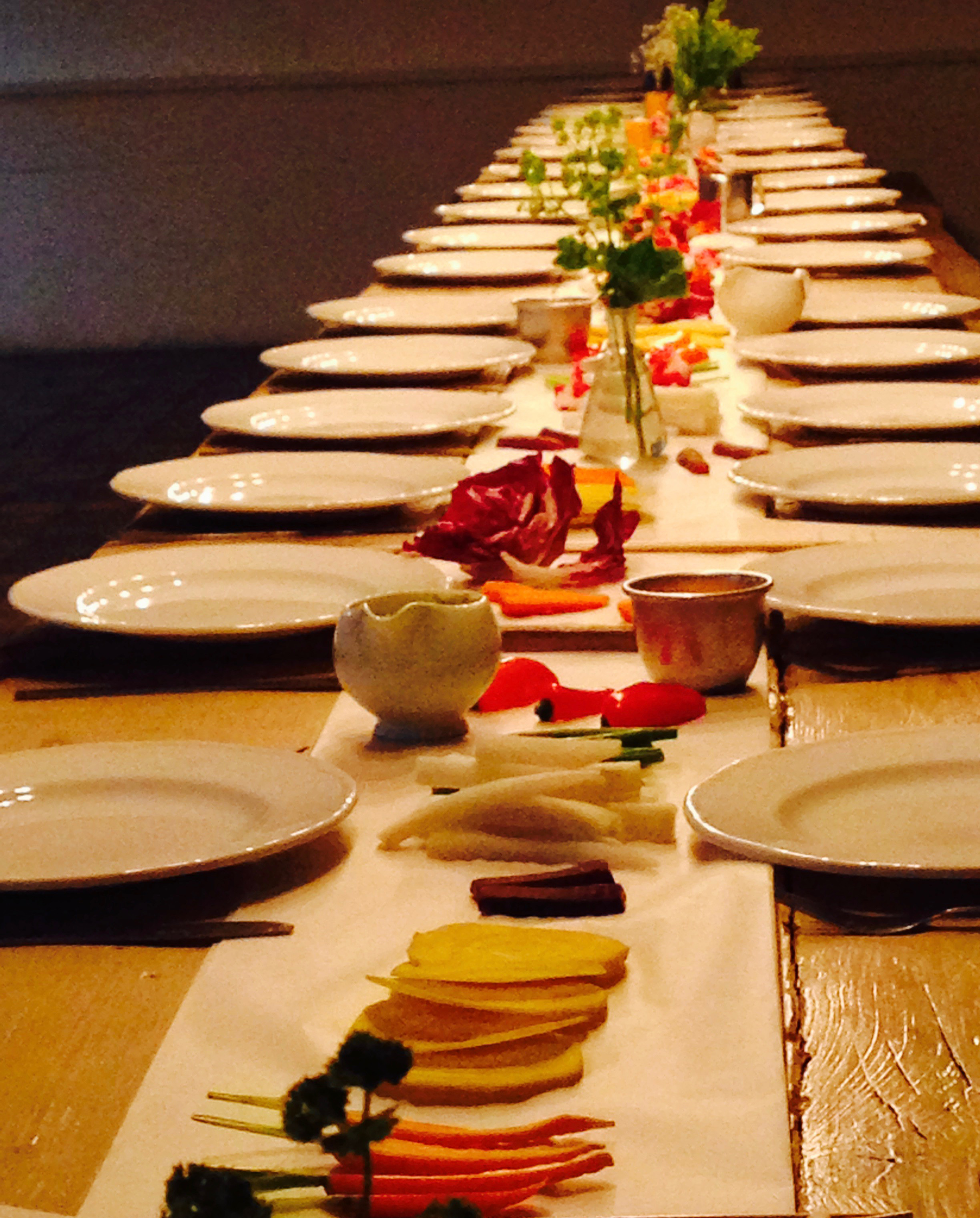 Offsite

We love to take the show on the road too. We have fed people in fields, harbours, theatres, boats, tour busses, art galleries, deralict houses, festivals, protests, conferences and have found that almost anything is possible. The change of scenery does us good and the challenges are usually interesting. We are a sociable team and get great enjoyment from crossing paths with new people and places. We are fully insured to provide outside catering and you can read about our sustainable practices
here.
Tell us about the people we are feeding so that we get it right

Why have you brought this group of people together?
Are they comfortable around each other?

Are you comfortable around them?

What do they have in common/what is the difference between them?

Do they need help with something in particular?

Do you want to get to know them better?
What would you like them to talk about?

Do you need them to be able to think clearly afterwards?

Do you want to make it seem like time has stopped or speed things up?
What is the age group?

Whose space is it an do they mind us coming?
Frivolity or earnestness?

Electricity?
︎ to Food